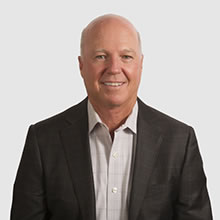 Don began his career in 1980 representing landlords at CBRE before joining Cresa in 2008. He has transacted over 1,700 leases, 134 sale transactions, and over $1.75 billion in volume. Don's clients recognize his acute vision for their financial, cultural and growth goals, his in-depth market knowledge, finance expertise, attention to detail, and his ability to organize and respond timely to his client's needs. Don represents national and international clients, some for over 25 years.
Education & Experience
Don received his Bachelor of Arts degree from San Diego State University with an emphasis in finance and real estate.
Affiliations
Don was formerly Chairman of the Elder Board at Faith Community Church. He also serves on the Santa Fe Christian Facilities Committee and is the former Head Baseball Coach at Santa Fe Christian High School, leading the team from 2008 to 2015.